History
In 1993 David Behr, an Ambulance Emergency Assistant (AEA) from Metro Ambulance and Rescue Services, and local resident of Fish Hoek approached Civil Protection (now Disaster Management) with the idea of starting a voluntary ambulance service in the False Bay area. This idea was turned down.
Then in 1995 Mr. Vic Kabalin chairman of the local TMC Executive Committee approached Dr. Cleeve Robertson head of Metro Ambulance and this time the project was approved. It was given to David Behr, now a paramedic, to run as his project.
A public meeting was then held with great success in October 1995 and a committee of seven members elected. The committee was David Behr, Mike Emmerich, Helene Hirshfield, Alan James, Chops Craig, Cecil Antonels and Susan East.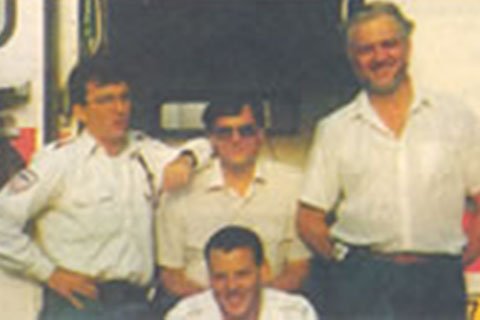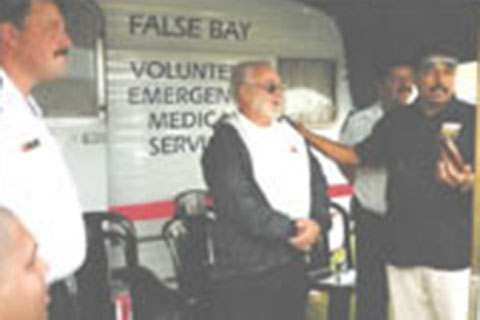 False Bay Volunteer Medical Emergency services was then launched on the 10th of November 1995. The vehicle (known as False Bay 28) was supplied and maintained by the Municipality of Cape Town. It was a basic life support vehicle and basic medical supplies were drawn from the ambulance station in Pinelands. Any advanced equipment had to be supplied by the volunteers themselves or donations from the community.
The first call for the False Bay Volunteers came less than thirty minutes after the keys were handed over. It was for a motor vehicle accident (MVA) in Soetwater and in all there were sixteen calls in the first weekend of operation.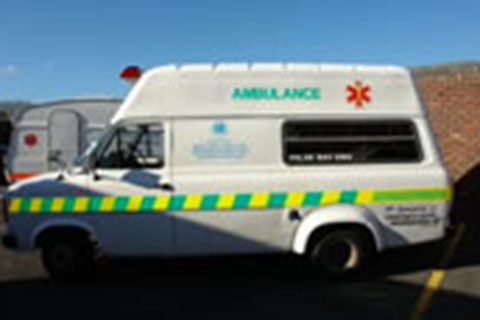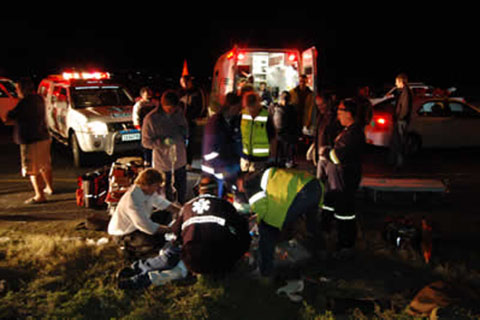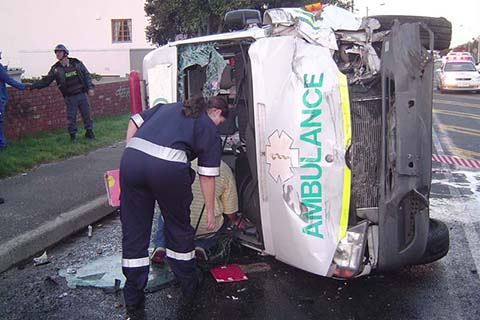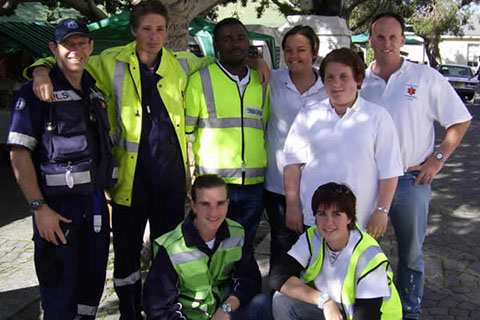 The first crew to work on False Bay 28 were: Mike Emmerich, Richard Gebhardt, Jacques Pienaar, with Chairman David Behr.
The vehicle was based at the False Bay Hospital car park and the organization had a squad room in the hospitals casualty department. False Bay started with 47 members consisting of two paramedics, fifteen Basic Ambulance Assistants (BAA) and thirty level three first aiders.
The first Basic Ambulance Assistants (BAA) course was held at False Bay Hospital in March 1996 by Mr. Mike Emmerich (paramedic) which added another fifteen qualified BAAs to the organization.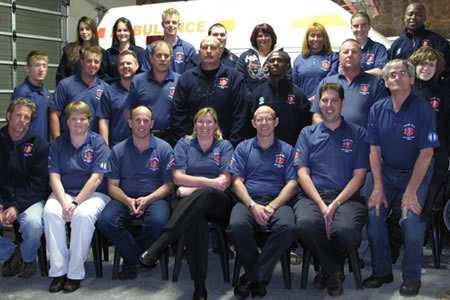 Like all volunteer organizations donations and sponsors are always vital. Among the very first donations received by FBVEMS were:
Red Cliffe Properties: R600
Anchors Players Simons Town: R100
Ms. Mare: TV Set
Ms. Gardner: Microwave
Mr. Vic Kabalon: R1300
Simons Town Ratepayers and Residents fundraising committee: Donation of a Defibrillator.
Past Chairpersons of False Bay Volunteer EMS
David Behr: November 1995 – May 2000
Russel Nicholson: May 2000 – April 2002
Gavin Grant: April 2002 – May 2005
Kevin Price: May 2005 – present