About Us
False Bay Volunteer Emergency Medical Service is a non – discriminatory emergency medical service. Our aim is to provide our community with prompt efficient emergency medical treatment, by properly trained and experienced personnel, irrespective of their ability to pay.
The areas we cover are Fish Hoek, Cape Point, Simonstown, Red Hill informal settlement, Masiphumelele (Site 5 Informal Settlement), Ocean View, Kommetjie, Noordhoek, Muizenberg (as far as Atlantic Road).
Our staff membership varies but on average consists of 40 people dedicated to serving the community. We meet every second Tuesday of the month at 19h30 in the squad room to discuss events of the past and upcoming month and plan the day to day tasks.
The day to day running of the service is administered by an elected committee, which currently consists of the following people:
Kevin Price: Chairman
Cynthia Bale: Staffing
Monique Joubert: Treasurer
Chad Chapman: Training and Vice Chairman

Donovan Deane: Logistics
Wayne Schluter: Public Relations
Danielle Robertson: Secretary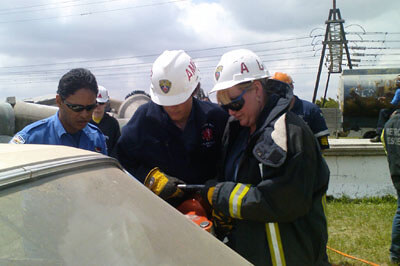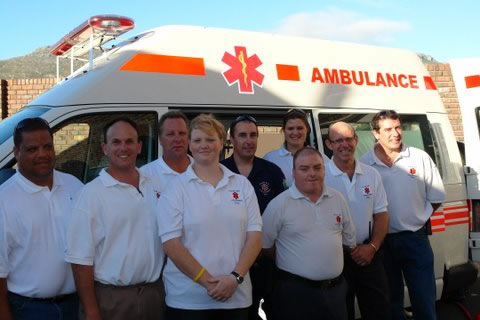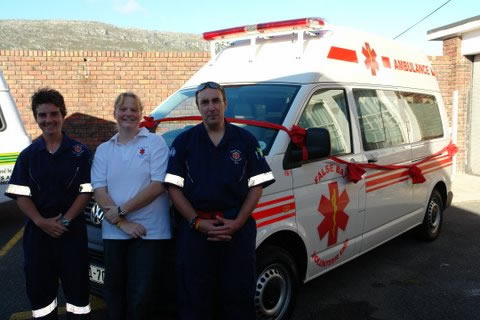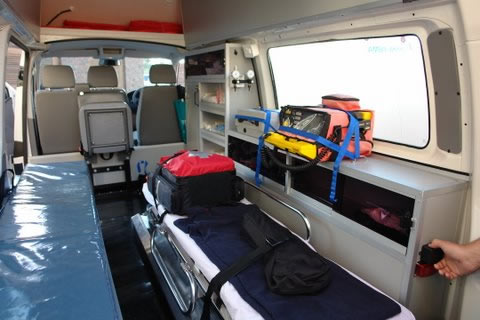 Why We Exist
The project became necessary because the closest ambulance to this area was situated about 25 minutes drive away. Cape Ambulance Rescue Service, owing to budget constraints and the resulting personnel shortages are unable to provide a full time service in this area. Waiting times of up to 6 hours have been reported for non-priority calls.
What We Aim to Achieve
Our aim is to provide our community with prompt efficient emergency medical treatment, by properly trained and experienced personnel. To this end, we hold monthly fundraising activities to raise funds for the purchase of ambulance equipment to improve the quality of the service we provide.
Who Benefits
The Southern peninsula community ranges from extremely wealthy to the poorest of the poor; a large section of our community is unemployed.
Our service is aimed at those people who have no other means of assistance when it comes to a medical emergency.
Whether they are the more affluent members of our community who do not have private medical aids or the poorest who cannot afford medical care.
Why We Are Needed
The need for an ambulance in this area has been proven by our statistics, which are attached, however if one considers that the average number of trips for a Cape Ambulance Rescue Service ambulance, is 12 to 15 per day one can see their reasons for not placing full time vehicles in an area where we do an average of 120 calls per month which is about 75% of the calls in the area.
The community we service consists of approximately 75000 people, spread over an area of 250 sq km.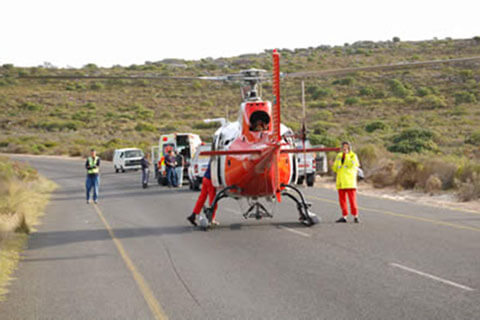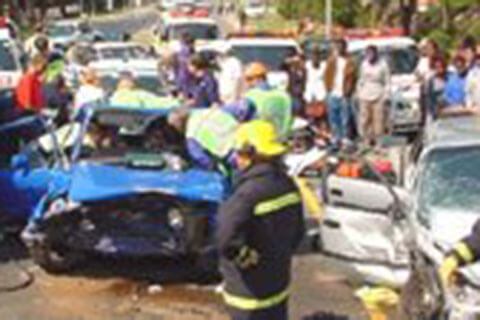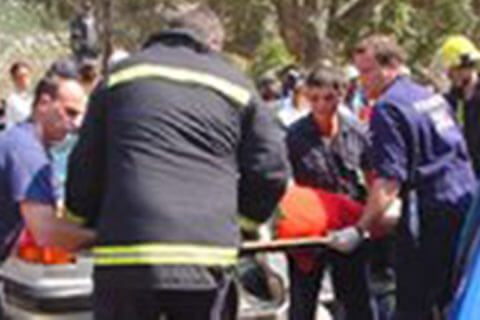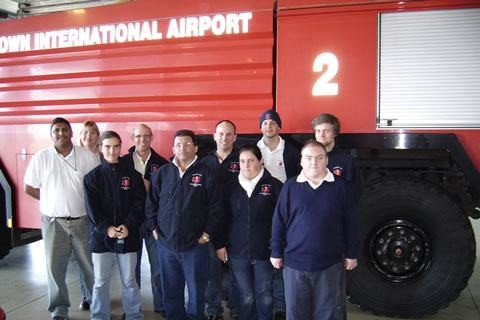 Where we come from
All our volunteers are from the community, and we are constantly looking for more people. Training is expensive and each volunteer is expected to pay for his or her own training and materials. We do not fund the training because we can't afford to and when we did we had our fingers burnt as they left the area and us and joined private companies with the skills we had given them. We have no objection to facilitating the training to provide people with marketable skills but do not believe the community (as this is where we raise funds from) and us should pay for it only to loose the skills.
In 1999, we moved from our base in the casualty department at False Bay Hospital to the Old Boiler Room at the top entrance of the False Bay Hospital. We also purchased a caravan with the intention of using it to help raise funds for our organisation.
This has been quite successful.
We cover a range of cultural events including:
The Simonstown Penguin Festival
Equestrian show jumping and cross-country events for the Noordhoek Riding Association
Biker rally events for the Fish Hoek Lions Club
Simonstown New Years Eve Festival
Three passes Cycle Tour
Argus Cycle Tour as a service provider for the Argus Cycle Tour Trust
We also do other events:
School sports matches
The Two Oceans Marathon
If you require our assistance for stand-byes please contact us and we will gladly make the effort to help where we can.
The Ambulance
We have always been fortunate to have a Provincial vehicle available for us to use. In the past, we operated on a code 8 ambulance provided by the Provincial Service. This vehicle was replaced by a new code 10 Mercedes Benz sprinter. Metro took the opportunity to place a permanent crew on their new vehicle from 07h00 to 19h00 Monday to Sunday as the need had arisen for a dedicated ambulance in the community. The volunteers then manned the ambulance only at night during the week and during the day over weekends. Then in 2002 Chairman, Gavin Grant, was approached by Clive John, then Chairman of the Lions Club of Newlands, to say that the Lions Club of Saltash in the UK, had a Code 08 1980 Ford Transit vehicle which had been converted into an ambulance, which they had originally planned to send to India but for various reasons that was not going to be possible and so they had passed it on to the Lions Club of Birkenhead in the UK, who were wanting to donate it to a worthy cause, and were we interested? After negotiations it was agreed that the ambulance would be donated the vehicle to us. It took a further 18months of official red tape before the ambulance finally arrived at the Cape Town Harbour on 23 February 2004. The transportation of the ambulance from the UK to Cape Town was undertaken for free thanks to sponsorship from I&J, Project Freight and Maersk SeaLand and the Lions Club of Newlands.
On arrival of the ambulance we were fortunate to receive sponsorship from many local companies to re-equip it. It was resprayed by Auto Italia in conjunction with I&J and the Lions Club of Newlands, the signwriting done by Signright, the emergency lights by Motolek in Bellville, the interior lights by Gateway Electrical in Sun Valley, IV Holders by Alumat in Kommetjie and the stretchers, and oxygen lines by the Provincial Ambulance Service.
This ambulance now enables our code 08 ambulance crews to work again. We are also better equipped to assist at local events in our area as we have the freedom of use of our own ambulance. This ambulance is however 27 years old and in desperate need of replacing. The ambulance is constantly in need of mechanical repairs and to this end we are began fundraising extremely hard to raise money for a new ambulance.
Fundraising events were held by the False Business Network and Fish Hoek Lions but this was going to take a long time to raise the amount required. Then on a Friday night in November our crew was dispatched to a chest pain at the Noordhoek Mannor house in De Goede Hoop Estate Noordhoek. The lady of the house Lady Christine Laidlaw was very impressed by our staff but appalled by the state of our ambulance. Lady Laidlaw `The Lady Laidlaw of Rothiemay` was prepared to sponsor a fully equipped ambulance for False Bay Volunteer EMS. Negotiations started between Chairman Kevin Price and Lady Laidlaw and a Volkswagen Transporter Tdi was purchased from Barrons N1 City. The vehicle was then sent to Emergency Vehicle Conversion in Johannesburg to be converted into an ambulance. Equipment was supplied by Be-Safe in Muizenburg and the new FB1 was launched on Friday 1st of February 2008.
Communications
In the past, we kept in touch with each other via pagers. We have now moved with technology and receive our call outs over cell phones as SMS messages.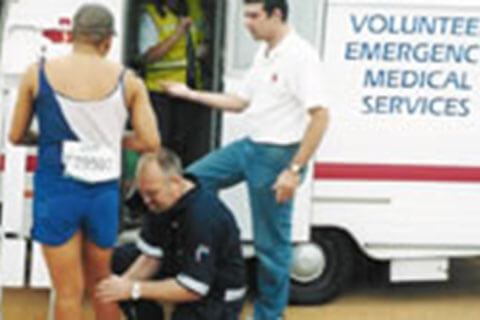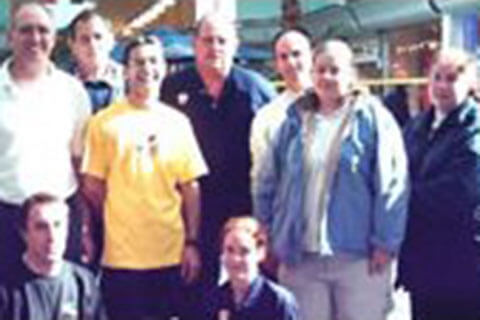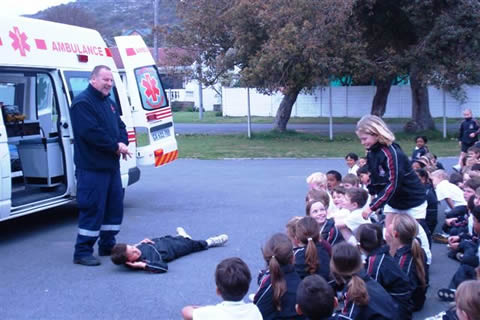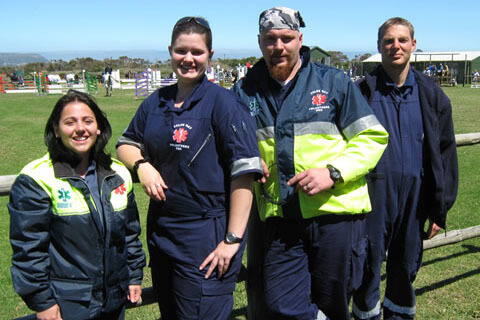 How it all works:
There is a duty officer (D.O.) on at all times. Metro will push a forewarn button to notify us that they need our assistance. The D.O. will call up on the portable radio and get all the details of the call. He will then put the info out to all the members via cell phone SMS system.
This takes +/- a minute for all the members to get the information When a crew is available, they will notify the D.O. and make their way to the ambulance. The D.O. will notify control that a crew is on the way to the ambulance and they will call up shortly to be dispatched. If there are no more calls in the area, the crew will stand down and notify the D.O. and control room. We then go back onto the pager/forewarn.
New Building Additions
In January 2008 local resident of Noordhoek Ms Pam Herr approached Chairman Kevin Price about donating money in memory of her late parents toward False Bay EMS. Something that could be viewed by people with a plaque of her family name. Since we had just been donated a new ambulance we decided to put the money toward extending our base by adding on two garages and a new entrance to house our new ambulance and our caravan. It took over a year to get all the approvals from Provincial government and hospital engineers to go ahead with the building. The building was then completed in May 2009 by T & D Timber works. Donations from the Laidlaw foundation and our PBO donations (EMT and Robin Campbell) also went toward the cost of the building.
Training
If you require any information on doing first aid courses or further info on our organisation please contact our staff officer on 073 5352167. We regularly do CPR training and updates and other exercises such as vehicle extrication, sea rescue, skymed helicopter and team building.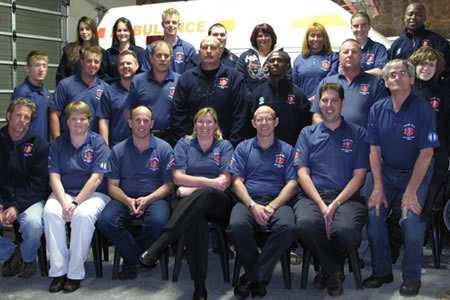 Staff Photo 2010